Scelio cano Yoder

(Life: Kingdom: Metazoa (animals); Phylum: Arthropoda; Class: Hexapoda; Order: Hymenoptera; Superfamily: Platygastroidea; Family Scelionidae; Subfamily: Scelioninae; Genus: Scelio)

Scelio cano Yoder, 2014.

Holotype: in CNCI, Ottawa. Type locality: Kabarole Dist., 20km SE Fort Portal, nr. Mikana, stream, Makerere University Biological Field Station (MUBFS), 00°34.37'N, 30°21.66'E, 1530m, Uganda.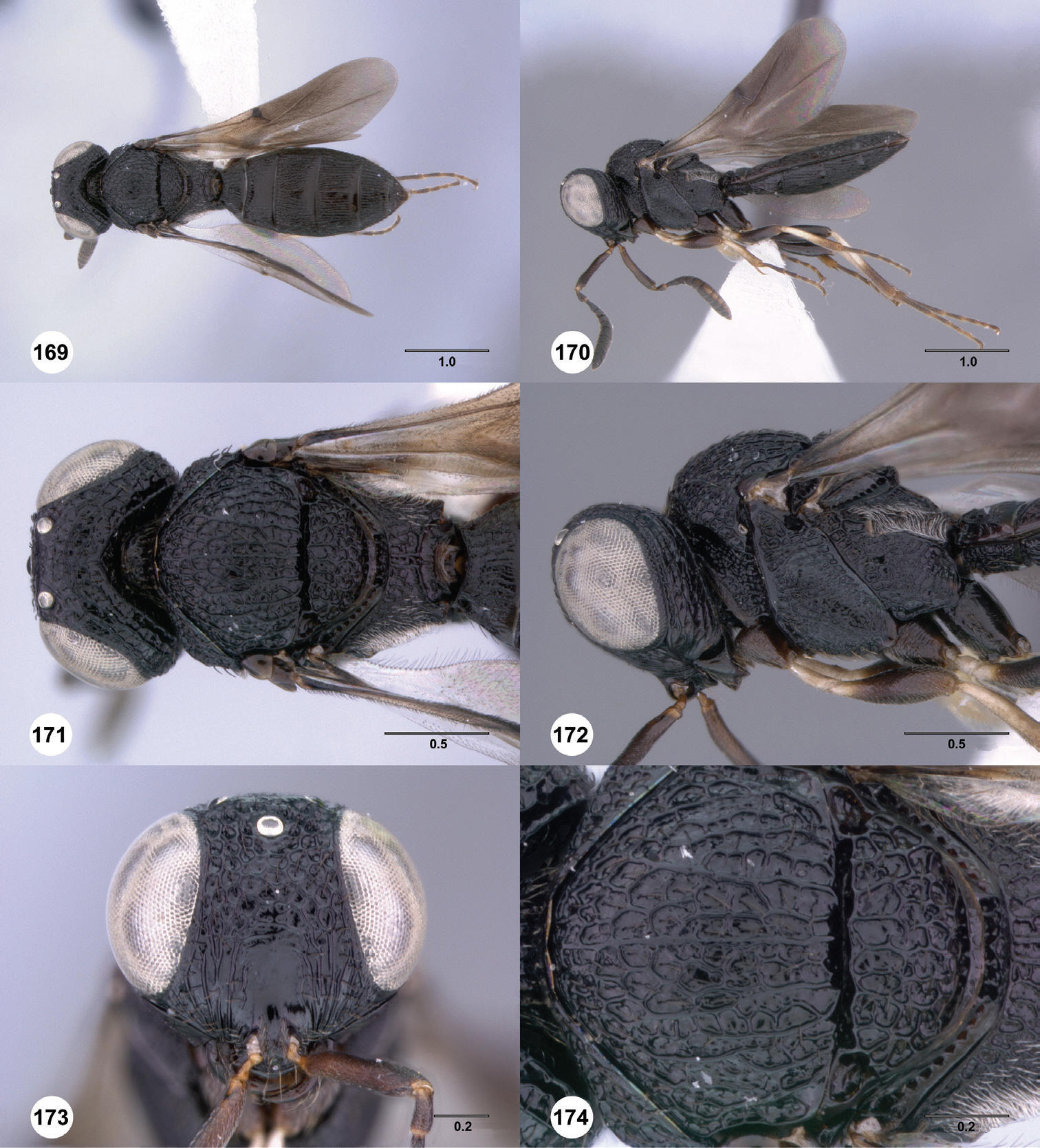 Figures 169–174. Scelio cano, holotype female (OSUC 212930). 169 Habitus, dorsal view 170 Habitus, lateral view 171 Head and mesosoma, dorsal view 172 Head and mesosoma, lateral view 173 Head, anterior view 174 Mesoscutum, dorsal view. Scale bars in millimeters.
Distribution

Uganda.

Link to distribution Map (Hymenoptera online database).

Biology

Host unknown, but probably an egg parasitoid of grasshoppers in the family Acrididae (Orthoptera).

References

Yoder, M., Valerio, A., Polaszek, A., van Noort, S., Masner, L., Johnson, N. 2014. Monograph of the Afrotropical species of Scelio Latreille (Hymenoptera, Platygastridae), egg parasitoids of acridid grasshoppers (Orthoptera, Acrididae). ZooKeys 380: 1-188.

Credits

Photographs © Matt Yoder.
Next genus: Shreemana Next species: