Distribution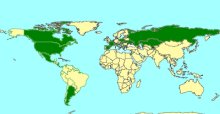 Afrotropical: Tanzania, Botswana, Holarctic: Argentina, Azerbaijan, Bulgaria, Canada, France, Hungary, Israel, Italy, Kazakhstan, Mexico, Poland, Russia, Spain, Switzerland, Tajikistan, U.S.A., Ukraine, Nearctic: Costa Rica.
Biology
Hosts: Arge berberidis (Argidae), Arge nigripes (Argidae), Arge pectoralis (Argidae), Arge rustica(Argidae), Atomacera debilis (Argidae), Atomacera decepta (Argidae), Cydia caryana (Tortricidae), Sphacophilus sp.(Argidae), Sphacophilus cellularis (Argidae).
Reference
Davis, G.C. 1897. A review of the Ichneumonid subfamily Tryphoninae. Transactions of the American Entomological Society. 24:193-348.
Förster, A. 1869. Synopsis der Familien und Gattungen der Ichneumonen. Verhandlungen des Naturhistorischen Vereins der Preussischen Rheinlande und Westfalens. 25(1868):135-221.