Distribution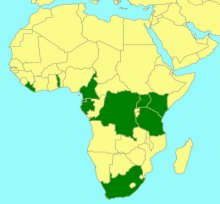 Cameroon, Democratic Republic of Congo, Equatorial Guinea, Kenya, Liberia, South Africa, Tanzania, Togo, Uganda.
References
Kriechbaumer, J. 1895. Hymenoptera nova exotica Ichneumonidae e collectione Dr. Rich. Kriegeri. Sitzungsberichte der Naturforschenden Gesellschaft zu Leipzig. 1893/4:124-136.
Viereck, H.L. 1914. Type species of the genera of Ichneumon flies. United States National Museum Bulletin. No.83. 186pp.