Distribution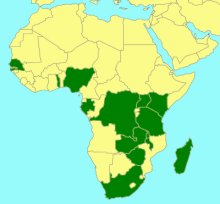 Guinea, Togo, Nigeria, Democratic Republic of Congo, Uganda, Kenya, Tanzania, Malawi, Zambia, Zimbabwe, Madagascar, South Africa.
Reference
Saussure, H. de. 1892. In: Distant W.L. "A naturalist in the Transvaal". London. 277 pp.
Viereck, H.L. 1914. Type species of the genera of Ichneumon flies. United States National Museum Bulletin. No.83. 186pp.